The Ruth and Hal Launders Charitable Trust is the first funder to support the Solar Electric Light Fund's (SELF) pilot project in Bukyerimba, Uganda. It is aimed at reducing sexual violence against women and girls who are stalked by predators while collecting water and firewood for their families in rural areas of Sub-Saharan Africa. By installing solar-powered streetlights and a solar-powered water station, as well as introducing solar cookers for food preparation, the project will significantly decrease the need for females to venture into isolated areas.
Based on the success of the project, SELF and its Ugandan partner, Rape Hurts Foundation (RHF), believe the pilot can be replicated throughout Sub-Saharan Africa where the need is greatest. In central and eastern Africa alone, the prevalence of sexual violence against women can be as high as 37%.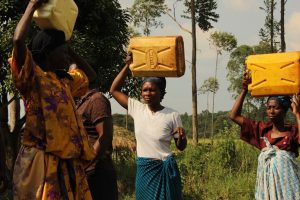 SELF has installed a three-story water tower that connects to a distribution network in the village so that no one will have to walk far to get water. It is no longer necessary for women and girls to spend several hours every day seeking water—with the threat of a brutal attack always on their minds. Another advantage resulting from the system's clean water is that water-borne diseases are no longer a threat, especially to young children.
Solar streetlights now illuminate the project area at night—but not just to increase security. Students in Bukyerimba and nearby villages congregate at the streetlights to do their homework, and neighbors can now safely gather at night. Businesses are staying open longer because customers are no longer afraid to be outside after dark. With businesses staying open, the local economy is starting to improve.
In 2021, SELF plans to launch a program that will introduce the community to a new kind of cooking that depends upon solar thermal energy from the sun for heat; thus, it drastically reduces the need for collecting firewood. When wood fires are no longer used for cooking, life-threatening pulmonary conditions from inhaling smoke and ash will no longer be a danger to the women. The program includes launching a women-run, solar cookstove business. A 10 kW micro-grid will provide light in the RHF safe house, children's center, and administrative office. It will also serve several solar-powered appliances—a cell phone charging station, grain mill, and refrigerator (for cold drinks). The appliances will generate revenue to assure the project's sustainability and provide an opportunity for the women to learn entrepreneurship.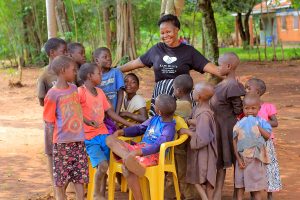 Even though the project's entire installation is not yet complete, evidence of success is seen around the community—not just for the women and girls, but everyone.  Hellen Tanyinga, Executive Director of RHF, says that the Kamuli Police Department (where Bukyerimba is located) reports that, since the opening of the water station and the installation of new streetlights, the number of sexual assaults has already dropped by 30%. Add to that statistic that 100% of the people in Bukyerimba have had their lives significantly improved because of their access to clean water and lights.  What started as funding from the Launders Trust to reduce sexual assault has delivered multiple returns on its philanthropic investment.
---
Contributed by Karen Allen. Karen is the Development Director for the Solar Electric Light Fund (SELF) based in Washington D.C.  Her work at SELF brings her full circle to her early career when she spent time in the bush in Central and South America, where she witnessed first-hand the consequences of energy poverty.