Blessed Unrest, now in our 20th year, is a subversive physical theater ensemble that transforms new and classic plays into channels for unexpected alchemy, energetic discomfort, and complex articulation.  Through a dedicated and diverse ensemble, international collaborations, and a rigorous training and devising process, we are fueled by the innate human desire to collaborate, the thrill of the impossible challenge, and the instinctual need to rebel.
We are an unusual organization in that we are a large company of creators who have been working, training, and honing our crafts together for anywhere between two and 20 years.  This allows us to go deeper every time we engage with the work.  It allows us to play hard.
We believe that complex, smart, physically driven theatre with strong narratives and a sense of humor can move and inspire a wide audience, and ours includes both fans of the avant garde and mainstream theatergoers.  The diversity of our ensemble broadens the scope of our work and attracts diverse audiences.
Blessed Unrest is honored to have been funded by the Ruth and Hal Launders Charitable Trust since 2018.  Particularly in the wake of the past two years, their contribution has helped to assuage the uncertainty of not only how to survive, but of how to continue making vital work as an arts organization.
COMPASSION THROUGH LIVE PERFORMANCE
Throughout the course of the pandemic, while live theatre was on respite Blessed Unrest continued to make work safely, recognizing the increased need for community and the presence of art in our lives.  We developed a process of prerecording all elements of sound involved in a production in order to eliminate the dangers of live speaking and vocal projection.  A rich tapestry of music and pre-recorded speech was developed to create soundtracks with which movement was interwoven.
Working both remotely, and outside in masks, TOUCH was born, a pandemic meditation on skin-hunger and longing to connect.  Inspired by our growing understanding of the function of mirror neurons and driven by the need to provide a refuge from the isolation and fear, the piece invited audiences to partake in the warmth of creative intimacy, with the safety of distance.  The research on mirror neurons and the emotional brain suggests that a witnessing of the authentic corporeal experiences of others can stimulate the very same visceral response in our own brains, as though the experience were ours.  It's a forging of literal compassion through neural growth.  TOUCH was performed outdoors in Madison Square Park as part of the NYC Open Culture Program. The success of TOUCH led to the creation of a very different piece of theatre, but developed in a similar way.  Commissioned by The Provincetown Tennessee Williams Theater Festival, we took on Williams' very first full-length play, Battle of Angels.  When it opened for a brief run in Boston in 1940, Battle of Angels was referred to as, "Indecent and improper…lascivious and immoral," "Low and common," and, "Putrid."  Dramaturgy surrounding the play suggests that Williams intended to cast a black man in the lead role but that the idea was rejected by his producers.  That is how Blessed Unrest chose to present it, turning an otherwise innocuous story into a racially-charged illustration of the bigotry of the American south.  Battle of Angels opened at the New Ohio Theatre in New York City and went on the headline at The Provincetown Tennessee Williams Theater Festival in MA.
CREATIVE EQUITY
Blessed Unrest's latest undertaking, The Untitled Othello Project (untitledothello.com), is an exercise in creative justice that pays a living wage to all artists, and employs ensemble-based creative practices to engage in deep and sustained exploration of Shakespeare's text.  We seek to evolve a script that provides humanity and dimension to the title character, and all of the characters that people this widely produced, but to so many, toxic and re-traumatizing play through a series of residencies at academic institutions.
Our work begins with extreme and in-depth text analysis, and conversation about all that we encounter, particularly in the realms of race and misogyny.  We maintain an open forum for all responses, and engage both students and faculty in the discussions.  With the information that we gather, we're then cutting, and reordering to build a streamlined version of the story that allows room for the actors to truly express the humanity of the characters, all without actually rewriting Shakespeare's words.  Next steps for the project include additional ensemble-building, and physical exploration of status and hierarchy in the play through movement work.  Our initial two-week residency at Sacred Heart University was hugely successful, and we're seeking other collaborators of that caliber with whom to continue this important work.
Blessed Unrest is honored to be partnering with Keith Hamilton Cobb (American Moor), Midnight Oil Collective (a creator-led arts investment, development and production group), and the Folger Shakespeare Library.
A BRIEF HISTORY
In our 20 years, Blessed Unrest has staged 35 productions (21 world premieres) at New York Theatre Workshop, New Ohio Theatre, PS122, Public Theater, Baruch Performing Arts Center, Interart Theatre, NYU, Columbia, Manhattan School of Music, and Provincetown Tennessee Williams Festival. We have toured Western Europe and the Balkans three times with original bilingual (English/Albanian) plays created with Teatri Oda of Kosovo. We have held developmental and production residencies at New Victory Theater, Baruch Performing Arts Center, New Ohio Theatre, IRT, and Interart Theatre, and teach our methods of theatre-making at universities around the country and internationally.
We were honored with a commendation for distinguished leadership from the Kennedy Center ACTF National Awards Committee, First Prize at the 2016 Secondo Theatre Festival (Switzerland), and the 2014 Cino Award for Sustained Excellence from the NY Innovative Theatre Awards, from whom we've received five other awards among 17 nominations (including Outstanding Production and Choreography/Movement).  Artistic Director Jessica Burr received the 2011 LPTW Lucille Lortel Award for her work as a director and the body of work we have created under her leadership.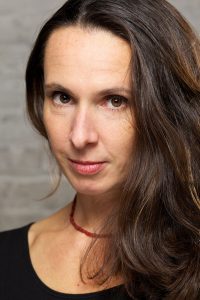 Jessica Burr
Blog content provided by Jessica Burr. Jessica is the Artistic Director and a founding company member of Blessed Unrest. She has been honored with the 2019 Kennedy Center ACTF Commendation for Distinguished Leadership