MISIONEROS DEL CAMINO – KATY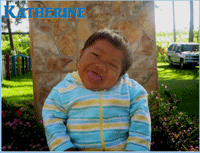 Katherine is a little angel who came to the Home in early February of 2016 at the age of 3, suffering from inhumane conditions. Her body was full of scabies, she had a terrible odor from going days without being bathed, she had flakes all over her skin, a muscle contracture in her neck and she suffers from a genetic disorder called Hunter Syndrome. Katherine arrived at the Home with little clothing and few hairs due to severe malnutrition. At first, Katherine would give the staff at the Home a hard time when they tried to feed her, but now she is eating well, drinking milk, and receiving medical supervision at the Neurological Center. Unfortunately, stories like Katherine's are all too common, but thanks to the generosity of the Ruth and Hal Launders Charitable Trust and the work of Misioneros Del Camino, children like Katherine will be given a second chance at life, and they will be able to not only receive the medical attention they need, but they will get the opportunity to enjoy the childhoods they deserve.
The video on the left depicts Katherine achieving the task of putting on a sock.