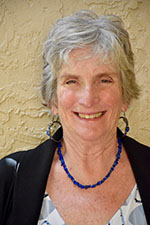 I am a second generation expatriate American a duel American- Irish (EU) citizen and a life long educator.  I have spent much of my life overseas in Samoa, New Zealand, Haiti, Lebanon and Yemen, the Azores, Indonesia, Sri Lanka and most recently, 15 years in Rome, Italy. This peripatetic lifestyle greatly influences and motivates me and is the backdrop from which I view the world at large.
My other great inspiration has been my family.  I am the niece of Harold Launders who set up the Ruth and Hal Launders Charitable Trust before his death in 1996.  I have been a Launders Trustee since that time.  Uncle Harold is the brother of my mother Alice Launders Webb and they were brought up by their older half siblings to be self confident, self-sufficient and to embrace life with gusto, imagination and have encouraged my brothers and myself to do the same.  To this end, "I seek to be energetic, thoughtful, creative, thorough and bold."
My education also has an international flavor.  I attended high school in New Zealand, studied Political Science at Boston College and the American University of Beirut and have a MA in Social Studies from Antioch University New England, a Certificate of Counseling from the Institute of Counseling in Glasgow, UK.  and a Certificate in Philanthropy from NYU.
My career as an educator has spanned over 30 years both in the US and around the world.   In the US I have been a teacher in inner city schools, and an open classroom High School Social Studies teacher as well as a union leader both at the local and state level.
At the International level I am the founding principal of the Semarang International School in Indonesia.  I have also taught in International Schools in Sri Lanka and Rome, Italy.  My international teaching career has given me the opportunity to work with teachers, parents and students from around the world and to travel widely to conferences and seminars both as participant and presenter in Asia, Europe and North Africa.  In Rome I was the President of the Parents Association at St. Stephens School and served for nine years on its Board of Directors. Wherever I have lived I have been active in International Woman's groups focusing on the issues of poverty, housing, food security, clean water and sanitation, the role of girls and women and climate change.  In my present role as philanthropist I am most interested in studying how these issues impact and interact with each other both in the US and around the world within a framework best summed up by Tom Tierney co-author of Give Smart: Philanthropy That Get Results
"In Philanthropy, excellence must be self imposed and no one achieves excellence without pushing themselves on the fundamental dimensions of strategy, execution, and the continuous improvement that underpins the best philanthropy."
Since 2008 I have served as the Grant Administrator for the Launders Trust and have worked with Foundant Technologies to set up a 100% paperless on-line grant application process.  To accomplish this I interact often with the Foundant support team in person, by phone and webinar and also reach out to network with other grant makers whenever possible.
I now live in Rhode Island with my husband, where we have renovated and moved into a house near the ocean, which we have owned since 1971.  We take every opportunity to travel to Europe and around the US by train, visiting our family and friends, especially our two daughters, their husbands and our grandchild.   My hobbies and pastimes include tennis, reading, attending and supporting live theater and classical music performances, gardening and visiting the beach year round.  I am a passionate researcher and promoter of the extensive collection of letters and papers housed in the Missouri Historical Society in St. Louis, Missouri from my Webb grandfather x5 a prominent Santa Fe trail trader and merchant and I am  an active member of the Santa Fe Trail Association.