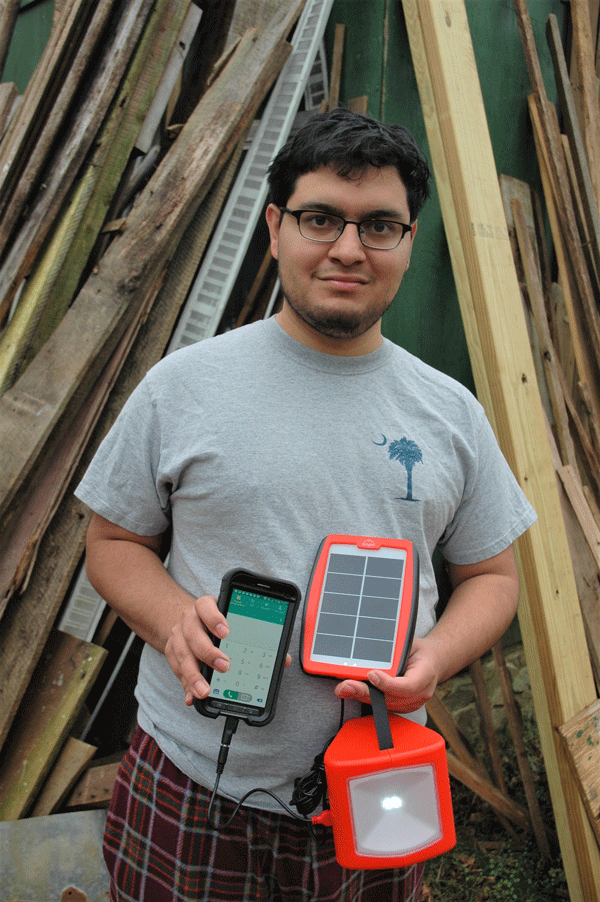 Grant from the Launders Trust Brings a Beacon of Hope to Puerto Rico
After Hurricane Maria savagely crippled Puerto Rico in late September, 2017, its citizens were dependent upon the humanitarian deliveries of food, water, and medical care.  What remained scarce was electricity.
The Solar Electric Light Fund (SELF), a Washington, DC-based non-profit organization that brings solar solutions to remote communities throughout the world, wanted to help.  While they knew that the long-term solution in remote communities should be solar micro-grids, the situation at hand called for immediate, short-term solutions.  Thus, SELF launched a funding campaign to send 400 high-quality solar lanterns with built-in cell phone chargers to the island's interior.  The Ruth and Hal Launders Charitable Trust, already acquainted with SELF when they supported a SELF solar installation in the indigenous Arhuaco village of Sabana Crespo in northern Colombia, stepped up with a $10,000 grant to help bring solar light to those who need it most in Puerto Rico.  With an urgent need for electricity in at least 30% of the island in mid-December, many areas are shrouded in darkness at night.  With the Ruth and Hal Launders Charitable Trust, at least 400 more families will have a reliable light in their home—a beacon of hope and compassion from their fellow U.S. citizens.
Grants from the RHLCT Used to Enhance the Neurological Center at Misioneros Del Camino in Guatemala
Misioneros Del Camino was founded in 1986 by Leonor Portela with the mission to help abused, malnourished, and abandoned children of Guatemala, offering them a healthy environment to grow, where they receive love, care and an education, preparing them to be productive citizens of society, breaking the cycle of ignorance, poverty, and abuse. From a small Home in Guatemala City with only 6 children, it rapidly grew to 50. In 1990 the municipality of Sumpango donated approximately 10 acres of land with several abandoned buildings. After several years of rebuilding, the Home moved to its new location capable of housing 100 children. Since then a school has been added for 200 children, as well as a vocational school, and a Nutritional Ward. In 2001 MDC in conjunction with Emmaus Medical Missions began conducting 2 medical missions per year attending 3000+ patients. The Neurological Center began operating in 2007 with the objective of improving the quality of life of children with Developmental Disorders (Autism, Down Syndrome, cerebral Palsy, etc) their parents and siblings. The Center provides neurological and psychological evaluations, speech, occupational, sensory and physical therapies, parental and therapeutic training, medical tests and medications. Most recently Special Education classes have been added.
The Center is currently providing services to 165 patients free of charge with more that 100 on a waiting list with a wide variety of disorders. To date the Center is the only facility in Guatemala that provides such comprehensive services to low income individuals and families. It is fast becoming a teaching facility for new therapists and other organizations interested in helping children with neurological disorders. (To learn more about the children featured on the left, please click on the individual photos.)
The grant funds from the Ruth and Hal Launders Charitable Trust will be used to enhance the existing services at the Misioneros Del Camino Neurological Center. It will provide some additional Neurological and Psychological evaluations and medications to patients that have no financial means to obtain them without assistance. The grant will also assist in replacing or obtaining new therapy tools and supplies for the Special Education classes and increase the hours of therapy provided to some of the patients.
Two Grants from the Launders Trust Support Innovation Center at Edesia
Edesia is a nonprofit social enterprise on a mission to help treat and prevent malnutrition in the world's most vulnerable populations. From our state-of-the-art factory in North Kingstown, Rhode Island, our dedicated staff (hailing from over 23 countries) produces peanut-based, ready-to-use therapeutic and supplementary foods that have reached over 5 million malnourished children in over 48 countries. Edesia's lifesaving foods are distributed in partnerships with humanitarian agencies such as the US Agency for International Development, US Department of Agriculture, the World Food Programme, UNICEF, and others.
In mid-2016 Edesia relocated its factory and offices within Rhode Island to a new state-of-the-art facility. Production capacity doubled and the more-efficient factory expanded our potential to reach up to two million malnourished children each year. The new factory plans also included an Innovation Center, where a small team is now working on new research and development initiatives for international and domestic use.
The need for real-world solutions to combat malnutrition are enormous with each country posing unique challenges that demand innovative solutions. In Guatemala, for example, there is a need to address the stunting crisis in children under the age of two, while in Yemen there is an urgent need to help malnourished pregnant women regain their health. New ideas, formulas, and products are desperately needed for the humanitarian workers involved with the nutritional programming on the ground.
With two generous grants from the Ruth and Hal Launders Charitable Trust, Edesia's Innovation Center has become well poised to successfully make and launch new product formulas — for countries like Guatemala and Yemen — fully customized and adapted in terms of ingredients, fortification, and visual messaging that is culturally appropriate. This will have a life-changing impact for many malnourished people, who would not have otherwise been reached.