THE RUTH AND HAL LAUNDERS CHARITABLE TRUST
BRINGS AFFORDABLE HOUSING TO ARROWBROOK CENTRE

January 4, 2021 – On December 18, 2020, Arrowbrook Centre, LLC closed on a set of twin ground leases with affiliates of SCG Development Partners, LLC ("SCG") to add affordable apartments to the diverse housing choices available at Arrowbrook Centre.  When completed in late 2022, Ovation at Arrowbrook will contain 274 dwelling units available for lease to tenants earning between 30% and 60% of local Area Median Income (AMI). The building will also include roughly 36,000 square feet of retail uses including restaurants and shops.  It will overlook a pedestrian plaza, adjoining streetscape, and a stream valley nature preserve. The 4.6-acre parcel under lease fronts on Centreville Road to the immediate right of the main entrance to Arrowbrook Centre. 
"The decision by the trustees of the Launders Charitable Trust to move forward with Ovation at Arrowbrook reaffirms the Trust's prior commitment to fostering of low-income housing as one of its charitable purposes", said Jeff Fairfield, Executive Director of The Ruth and Hal Launders Charitable Trust.  I commend the trustees for their wisdom and foresight, and I salute the key contributions of federal, state, and county government which have made this project financially viable."  Fairfield also expressed appreciation for the work of the many professionals at Pennoni Associates, Inc. of Herndon and DCS Design of Tysons, Virginia for their outstanding efforts in formulating the design and securing the approvals for Ovation at Arrowbrook and its supporting infrastructure.  Fairfield added: "A special accolade is due the management of SCG who have repeatedly demonstrated through its many housing developments nationwide that housing affordability and excellence in design are not incompatible." 
For more on the key role played by Fairfax County Government and its housing authority in advancing Ovation at Arrowbrook to a reality, see the press release of the Fairfax County Redevelopment and Housing Authority accessible via the following Internet link:  
https://www.fairfaxcounty.gov/housing/news/2020/affordable-arrowbrook-apartments-moves-forward 
Founded in 2006, The Ruth and Hal Launders Charitable Trust ("RHLCT") is a charitable family foundation headquartered in Herndon, Virginia.  RHLCT is the sole member and owner of Arrowbrook Centre, LLC.  For more information, see arrowbrook.com.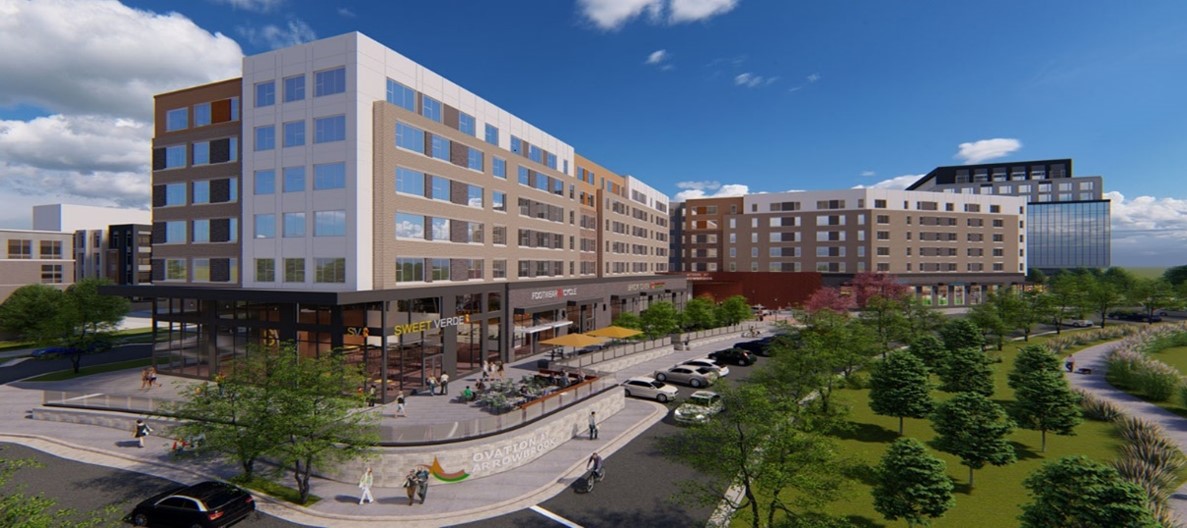 LAUNDERS CHARITABLE TRUSTEES ACCELERATE GRANTMAKING TO MEET THE CHALLENGES PRESENTED BY THE COVID-19 PANDEMIC
May 1, 2020 – The Trustees of The Ruth and Hal Launders Charitable Trust ("RHLCT") held a virtual special meeting in April 2020 and voted unanimously to authorize an out-of-cycle round of grants in light of the challenges presented by the Covid-19 pandemic. In taking this action, the Launders Trustees instructed the Trust's staff to simplify and expedite the grant application and funding process to lessen the burden on applicants and their staffs. The Trustees also directed that grants be limited to public charities which RHLCT has previously supported and which serve vulnerable populations adversely impacted by the current public health crisis. The initial round of these special grants totaled $100,000, and it was completed in record time. In some instances, the time span from application to the grantee's receipt of funds was reduced to as a few as 7 days. A few of the grantees receiving these emergency grants were the following charities:
FeedMore, Inc., Richmond, Virginia – $25,000;
The Jonnycake Center, Inc., Peace Dale, Rhode Island – $20,000;
Doorways for Women and Families, Arlington, Virginia – $10,000;
Boca Helping Hands, Inc., Boca Raton, Florida – $10,000;
Alpha-Omega Miracle Home, Inc., St. Augustine, Florida – $10,000; and
Achievement Centers for Children and Families – $10,000
A second round of emergency Covid-19 related grants is planned for later this spring.
The Ruth and Hal Launders Charitable Trust is a family foundation headquartered in Herndon, Virginia and is governed by a five-member Board of Trustees.